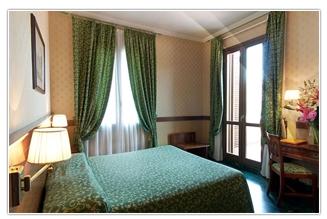 The Grand Hotel Gianicolo, a gem of comfort, luxury, modernity, it is the ideal choice for your stay in the Eternal City, for every kind of traveller.

This welcoming hotel is equipped in a modern way, provided with every possible amenity, in order to give you the best stay. In fact, we have at our disposal meeting or event rooms perfect for every kind of successful events, as well as a famous restaurant, open 7 days per the week.

Come to taste the delicious dishes of the regional and national tradition, realized with new solutions by our good chefs. Naturally, don't forget the appointment with the wine: our renowned cellar has at its disposal all the possible solution, in order to allow you to enjoy in the best way the served dishes.

In the morning we surprise you with an abundant American buffet breakfast.

Moreover, the structure enjoys especially accurate externals provided with every comfort: as you arrive you will be welcome by two splendid gardens and a swimming pool. In the summer these are the best places, where you can relax under the shadow, sunbathe or enjoy the swimming pool with your children.

For those who arrive by car, the hotel has at its disposal a spacious and cosy parking (on a fee).

Finally, we offer also the wireless internet connection for every working need (on a fee), as well as perfectly air conditioned ambiences for your largest comfort.